SportsBar-TV Turn-Key Video Systems
Cat5 HDMI Matrix System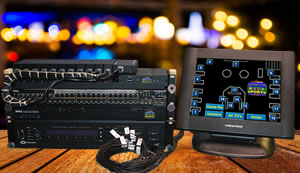 Our most popular system is our, HDMI HD 1080p Video over Cat5 wiring system which includes the SB-Touch v2 Controller and all interconnect cables (except the Cat5 to the TV's). The basic...
Coax HDMI HDTV Systems
Our Coax HDMI HD Multi TV Control System has all the features of our popular Cat5 system but uses a single coax wire as the medium between the unit and TVs, it distributes raw uncompressed...
Component HDTV Systems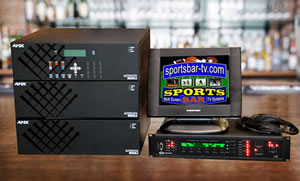 Our High-End Sports Bar HDTV Matrix Switcher and Control System includes a top-of-the-line Autopatch 20x32 Modula HDTV Matrix Switcher plus 10" Crestron Touch Panel and Controller. If you bought...
SB-Touch V2 - Touch Panel System
All of our systems are based on our SB-Touch V2 Touch panel controller which is now in its 3rd generation with 7 years development and successfully deployed in hundreds of Restaurants and...
Signage Systems
SportsBar-TV Systems is now proud to announce our exclusive inexpensive solution to adding Text and Graphics to your TV's. The TV your patron is currently watching in your SportsBar,...
TV Walls
Have you ever wanted to watch more than one TV program or sports game at once? A low-budget solution may be the TV's picture-in-picture feature, but that's clunky and not nearly big...