Blog
Sportsbar-TV Systems
FAMILY BUSINESS: Mary Palermo (behind bar, top photo) along with sons Jimmy, left, and Joe, serve up some brews for their patrons in 1935. Above left, patrons enjoy a favorite brew and sports event on the Farnsworth television. Above right, Jimmy Palermo tends bar in 1949. America's Original Sports Bar was founded in 1933 right after the Volstead Act was modified to allow for the legalization of beer and was a gathering place for sports figures and fans.
Sports Bar format has roots in family tavern founded during the early '30s
---
HIGH TECH:
In 1947 America's Original Sports Bar became a popular gathering place every Friday night to have a favorie brew and watch the fights on the newest technology — a 12-inch Farnsworth television like this one.
America's Original Sports Bar was located adjacent to the left field gates of Sportsman Park in St. Louis — home at the time to both the Cardinals and Browns
Years before the advent of Buffalo wings, satellite hookups or wide-screen television, Palermo's neighborhood tavern could take title as America's Original Sports Bar. Always a comfortable, friendly meeting place since it's founding in 1933, the tavern took on its "sports bar" personality right after World War II.

The tavern was opened at the intersection of Spring and Sullivan Avenues, and adjacent to the left field gates of Sportsman's Park in St. Louis — home to both the Cardinals and Browns — the day prohibition ended in 1933. Prior to that, the Palermo's had owned and operated a confectionery and restaurant at that location since 1923.

Because of its proximity to the ballpark, the tavern, and confectionery store before it, had always been a gathering place for sports figures and fans. In the 1930s, patrons could listen to the Browns or Cardinals games on the Philco radio while they enjoyed something from the sidewalk grill like a ballpark dog, burger or even pork chop. Also on the menu were home-cooked Sicilian meals prepared from scratch. And, of course, the Original Sports Bar offered beers from nearly a dozen breweries that re-opened after Prohibition.


FIELD OF DREAMS:
America's Original Sports Bar (circled above) was fittingly located across the street from the ballpark that played host to more Major League baseball games than any other park in history. Sportsman Park in St. Louis opened in 1902 and housed both the Cardinals and Browns for 34 years, 1920 - 1953.
CHIPPING COAL FOR A NICKEL A TON
By 1946, Paul Palermo, the proprietor, had a long career in what was then called the "saloon" business. A Sicilian immigrant, he had worked in the coal mines of Southern Illinois in the 1890s as a child. At age 12, he took care of the mules that hauled the coal carts through the mines, and by the time he was 15 he was chipping coal for a nickel a ton. Paul figured he didn't have much of a future in the mines when a cave-in killed his partner.

In 1914 Paul moved from Willisville, Illinois to East St. Louis to open a saloon along "Whiskey Shoot," which was a conglomeration of saloons and other establishments for adult pursuits located on the east side of Eads Bridge. His customers were all blue-collar types who worked in the nearby mills, or on the barges that plied the Mississippi River.
FIRST OF ITS KIND:
Rose Palermo serves customers from the first hot dog stand located outside the gates of Sportsman's Park.
Business was good for Paul as he acquired five more saloons along the "shoot" during a four-year period. In 1918 he sold his holdings in East St. Louis and opened a saloon at Cardinal and Easton in St. Louis. Although the saloon did well, the end was near as congress passed the Volstead Act in October 1919. With prohibition slated to begin in 1920, Paul decided to open confectionery stores, which were sort of a precursor to today's neighborhood convience stores like 7-11.
FIRST HOT DOG STAND OUTSIDE SPORTSMAN'S PARK
In February of 1923, Paul and his wife, Mary, purchased the property at 3701 Sullivan, a two-story brick structure across the street from the ballpark. The front half of the bottom floor was used as the confectionery store. The rear was converted into living quarters to accommodate Paul, Mary, their two sons Joe and Jimmy, and Paul's mother.

Paul and his 11-year old son Joe built the first hot dog stand outside of Sportsman's Park in April of 1923 in preparation for the Browns and Cardinals baseball season. Paul designed the elaborate grill himself, which could cook about 100 hot dogs at a time. Small dogs sold for 5 cents, large were 10 cents. Sodas were 5 cents. Also for sale were cigars, cigarettes, chewing tobacco and gum - which were displayed on the counter. On a good day the stand would take in $25 to $35, but the first $100 day was during the 1926 World Series when the Cardinals played the Yankees.
HALL OF FAMER Jim Bottomley would drop by America's Original Sports Bar to enjoy Sicilian-cooked meals.
Mary ran the confectionery store, which sold everything needed in an early 20th century city dwelling including dry goods, canned goods, bread, eggs, cigarettes, cigars, candy, ice cream and even hardware items. Ball players and coaches from both leagues frequented the establishment mainly for Mary's cooking, and during prohibition, for Paul's excellent homemade wines. Major leaguers also dropped in regularly to buy smokes, chewing tobacco and gum because it was cheaper in the store than in the clubhouse.During the rebuilding of the area's surrounding streets and improvements to Sportsman's Park in 1925 and 1926, Mary added a small restaurant inside the confectionery to accommodate all the construction workers. The store was remodeled to allow for four tables and a long shelf attached to the wall for stand-up patrons.

Then in 1933, President Franklin D. Roosevelt sent a directive to Congress urging members to modify the Volstead Act to allow for the legalization of beer. Congress accommodated FDR, and on April 7 beer became legal for the first time in more than 13 years. Part of Palermo's Confectionery was converted to a tavern and opened that same month.
TAKING CARE OF BUSINESS:
Paul Palermo, right, and Joe Schmidt man the hot dog stand on a Summer afternoon before a Cardinals game in 1938. Paul and his 11-year old son, Joe, built the first hot dog stand outside of Sportsman Park in April of 1923.
By the time World War II ended Paul had experienced some health problems and Jimmy had spent the last four years in the Army. That left only Joe to look after the family's five taverns. Upon returning from Europe in March of '46, Jimmy expected to go back to his professional umpiring career. But because his father was ill, and Joe needed his help, he joined the family business.
BOOMING BUSINESS
Business boomed in the post-war years as the Cardinals drew large crowds and nearby Carter Carburetor had shifts running 24 hours a day. To accommodate all the workers, the tavern opened at 7 a.m. The early birds enjoyed a hearty breakfast, and many had a shot or two before clocking in.


AMERICA'S ORIGINAL SPORTS BAR PROPRIETORS:
Paul and Mary Palermo with their sons Jimmy, left, and Joe. Mary and Paul were your typical hardy and hard-working immigrants of the early 20th century. Paul worked in the coal mines of Illinois as a child, and Mary was lucky to make it to the United Stated from Sicily because her vessel was rocked by a violent Atlantic storm that killed the captain and almost sank the ship. This photo was taken right after World War II.

It was during the late 40s that the tavern began to assume a sports motif. It all started when Jimmy was given several letter-sized black and white bust photos of the Browns players. Because Jimmy had been part of the St. Louis Browns organization from 1927 to 1941, he had many good friends (and customers) who worked for both the Cardinals and Browns - including the players and coaches.
THESE BATS, including those of Hall of Famers Hank Aaron, Ralph Kiner, Eddie Mathews, Willie Mays, Stan Musial, Pee Wee Reese and Duke Snider decorated the walls of America's Original Sports Bar.
FAVORITE GATHERING PLACE
Once a few of the photos were hung, the tavern's walls rapidly filled up with framed pictures of many of the Browns and Cardinal players of the day. Then in 1947, the tavern became a favorite gathering place every Friday night to have a beer and watch the fights on the newest technology - a 12-inch Farnsworth television. Thereafter, Palermo's Tavern, already a recognized stop-off before or after a Browns or Cardinals game, became a destination to listen to, or watch, sporting events while enjoying a favorite brew.

In the early 1950s, the tavern was remodeled and eventually decorated with game-used equipment from all 16 Major League teams including uniforms, caps, gloves, balls and hundreds of cracked bats. All of the items were brought over from the ballpark by Freddie Buchholtz, a good friend of Jimmy's who worked as batboy for the Browns and Cardinals from 1950-1955.

After the remodel in 1950 the house draft beer was Griesedieck. But when Gussie Busch purchased the Cardinals in February 1953, the house beer was changed to Budweiser. Gussie, a consummate marketer, enjoyed stopping by the tavern several times a year with his entourage and would shake hands and buy everybody a few rounds of the drink of their choice.



TABLE SHUFFLEBOARD was a popular bar game during the 40's and 50s and also with the patrons of America's Original Sports Bar. Above, Jimmy Palermo, far left, takes a turn. At far right is Joe Palermo, and to his right is his wife Mary Catherine and Jimmy's wife Nadine.
KING OF BEER:
When Gussie Busch purchased the Cardinals in February 1953, he enjoyed stopping by America's Original Sports Bar to shake hands and buy everybody a few rounds.
Palermo's Tavern, a forerunner in establishing the sports bar format, offered all of the popular games of the day including billiards, table shuffleboard, pinball and once a week in the kitchen - poker. When a sporting event wasn't on television or radio, a jukebox belted out a favorite tune.

By 1956 the tavern offered televisions in both far corners, and one over the bar. Even though many people had their own sets by this time, Palermo's was still the place to be to enjoy a pleasant meal, cold beer and good friends.

Although the building stands today, and is still a neighborhood tavern, the end for America's Original Sports Bar came when the Cardinals moved to their new downtown stadium and many of the long-time patrons relocated to the suburbs.

When a helicopter symbolically carried home plate to the new Busch Memorial Stadium after the last game at Sportsman's Park on May 12, 1966, it signified the end of an era for St. Louis baseball and America's Original Sports Bar.


UP, UP AND AWAY:
Sportsman's Park/Busch Stadium groundskeeper Bill Stocksick, an old friend of Jimmy Palermo and patron of Palermo's Tavern, carries homeplate to a helicopter on May 12, 1966 for the transfer to the new downtown Busch Memorial Stadium. The park played host to more Major League games than any other in history.


FOUR DECADES LATER:
The building at 3701 Sullivan Ave. that housed America's Original Sports Bar from 1933 to 1966 continues to stand today and is, appropriately, still a neighborhood tavern. In the above photo, taken in early 2005, are Jimmy Palermo, now 85-years old, and his son Jim.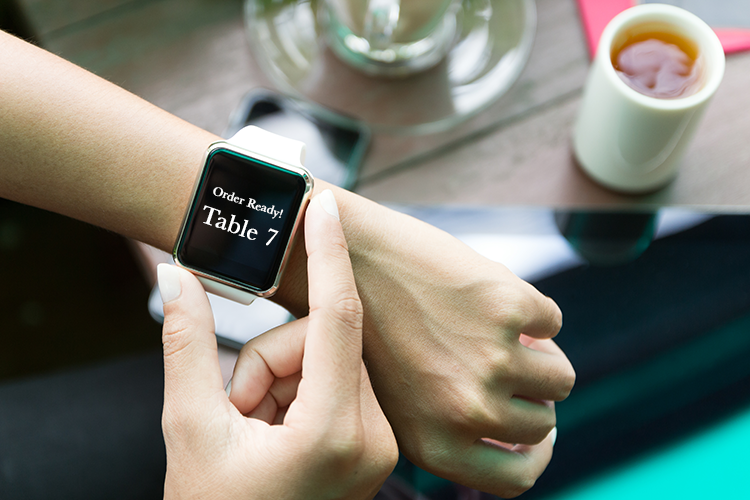 I am extremely bullish on the use of wearable technology in the restaurant industry. Devices like the Apple Watch can provide subtle notifications, reminders, and guest details that are much less intrusive than a smartphone.
In many restaurants, servers are directly told not to use their smartphones. This is for good reason. Personal smartphone use, such as messaging and Snapchatting, can quickly detract from a server's focus on their tables. Once you open the door to staff smartphone use on the restaurant floor, you are supporting a habit that sees the average person check their phone 85 times per day.
Taking advantage of wearable restaurant technology
The real question is, "How do you leverage the technological benefits of a smartphone without threatening the overall experience?"
The answer is wearable technology.
Wearable technology like a smart watch benefits from a simplicity in communication that only requires a glance. Everything from a back-of-house alert that a guest's order is ready to a front-of-house notification that a VIP has just walked through the front door. Wearables can serve as a critical link in sharing just-in-time information.
A smart watch provided to staff also eliminates the threat of personal messages interfering with business communication.
Wearable tech in its infancy
While the days of wearable technology permeating the restaurant industry are still young, savvy operators are beginning to test the waters. Danny Meyer, of Union Square Hospitality Group and Shake Shack, will be utilizing Apple Watchesin his soon-to-reopen flagship, Union Square Café.
In a partnership with reservation and restaurant management platform Resy (a new on the scene OpenTable rival), all restaurant managers and sommeliers at Union Square Café will wear an Apple Watch. The initial app will alert managers to VIP guests, real-time inventory information, and will communicate with sommeliers when a table has requested a bottle of wine.
Read: 4 Benefits of Mobile Payments for Restaurants
Even though the initial launch is not staff-wide, it's only a matter of time until all front-of-house staff are wearing Apple watches. Servers using wearable technology is where where the tech rises above smartphones in the restaurant environment.
Arguably, managers can be trusted to use their smartphones respectfully on the restaurant floor to access important information. For servers, hosts, and other restaurant staff, wearable technology can be an invaluable customer service tool.
Here are five uses for wearable technology in the restaurant industry:
1. Communicate specialized guest information to front-of-house staff
This could include everything from VIP, loyalty status, and visit frequency to known allergies.
2. Track real-time metrics from the floor
Rather than having to spend time in the back office, managers can receive real-time inventory information right on the restaurant floor in a "glanceable" format. This gives them more time with guests while continuing their managerial duties.
3. Communicate important staff information
Rather than relying on printed signs in the kitchen or staff room, Apple Watches can serve as a valuable internal communications tool. Wearable technology can ensure that all staff receive important messages in a timely manner. No more chasing staff down or playing operator.
4. Facilitate guest requests
With connected systems that enable guests to request another drink or assistance from a tabletop top tablet or smart device, a server with an Apple Watch will be alerted in real-time. This paves the way for providing the highest level of guest service.
5. Alert servers of guests' mobile payments
As reported, 43% of restaurants planning to implement mobile payments in the next two years. That means an increasing number of guests will choose to pay with their smartphones. To keep up, servers will need to be seamlessly alerted when guest checks are paid.