He tells where you can get an affordable TV control system for your sports bar. Bar and restaurant owners take a minute and listen to what the king has to say about controlling your multiple TV systems, TV walls and other audio video equipment with one pad or touch screen from Sports Bar TV Systems.
Easy Choice To Make!
Essentially there are 2 choices facing establishments
SportsBar-TV Systems Makes it an EASY choice!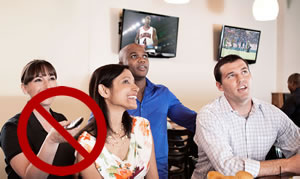 One choice is to use a separate Set-Top-Box (STB) for each TV and pay the Satellite or Cable company for EACH one. Commercial fees can exceed $20 for every TV, EVERY MONTH! The STB solution will also NOT allow for any local content (DVD's, BluRays, VCRs or Cameras), instead, every TV MUST show either Cable Company or Satellite Content, control can only be done by walking to each TV and carefully pointing a remote.

The BETTER choice is a Matrix Switch & Touch panel Solution. This allows you to pay monthly fees on fewer receivers and you can now switch any source to any combination of TV's, you only need pay for the number of SEPARATE program sources you need. Seriously, how many different Football games can you really show at one time? The Matrix also allows you to intermix local content easily such as DVD's, BluRay Disc's, Local Cameras, Computers or Advertisement. Our SB-Touch Panel controller allows you to control both the Matrix switch AND the source box's channel selections as well as control from anywhere using an iPad or Tablet as well.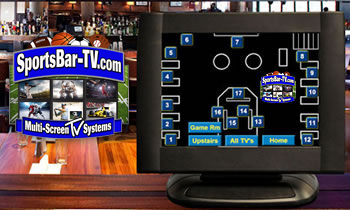 SportsBar-TV Systems Has the Easiest to use TouchScreen Controls Available!
Every TV in your establishment is displayed in it's exact location on the floorplan of our Crestron TouchScreen control system.
Attendants can easily change content to any TV by simply touching the location of the screen they want to control.