SB-Touch V2 - Touch Panel System
All of our systems are based on our SB-Touch V2 Touch panel controller which is now in its 3rd generation with 7 years development and successfully deployed in hundreds of Restaurants and Bars, It utilizes our unique reverse look-up system of TV to Source control where you only have to select the TV with the correct program playing, the system then does a patented "Reverse TV Lookup ©" to find the proper source and allows you to add any number of additional TV's with only 3 keystrokes.
Our motto is "It's not if it's on, It's Where it's On ©", with dozens of TV's playing chances are the show your patron wants is on one of them so the real trick a large system has a need for is a quick way to transfer shows between TV's, with our exclusive patented system anyone can do this with only 3 keystrokes and less than 5 minutes of training.
For example, a patron sits down near TV 18 and requests a program that is currently playing on TV6 across the room. All the attendant has to do is:
1Select "Select TV"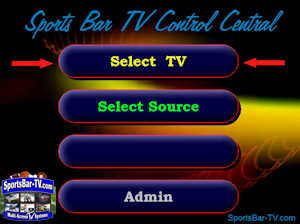 2Select TV6 (the TV with the proper program) - A popup screen will appear showing the source that is connected to TV6 along with a panel showing all your TV's.
3Select TV18
With three touches you have copied the program that was playing on TV6 to TV18 and satisfied your patron.
In addition, there is iPad/Android Tablet control, PIP Preview Window on the Wired Touch panel controller, full power redundancy to all rack components and remote diagnostic with monitoring available. IE, should one of the power supplies or fans or other equipment fail we will be contacted by the system which allows us to get replacements into your hands BEFORE you experience an issue.
SB-Touch can control any of our switching solutions (Digital or Analog) or even be customized to control a matrix switch already installed in your establishment such as Knox, Extron, Key-Digital, etc.