Cat5 HDMI Matrix System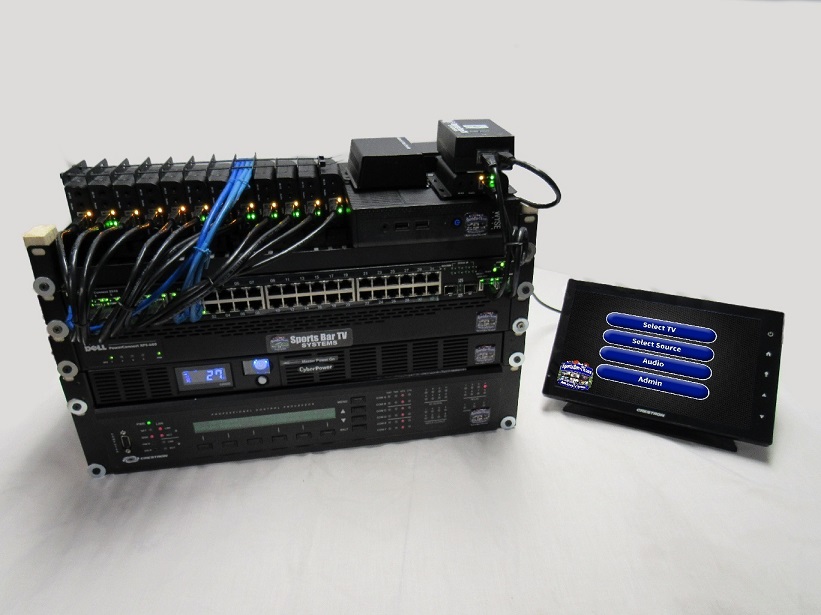 Our most popular system is our, HDMI HD 1080p Video over Cat5 wiring system which includes the SB-Touch v3 Controller and all interconnect cables (except the Cat5 to the TV's). The basic system is 8 sources to 16 TVs and can be scaled to any size by adding more receivers, source converters or additional switches (each switch supports 48 additional ports). Audio is delivered to each TV and zoned audio is also available.
Installation is incredibly easy, and all instructions are included in an easy to understand format. The unit will arrive pre-wired and ready to slide into your rack or set on a shelf or table as a single self-contained unit - just plug in your sources and TVs and you're ready to go.
Just run Cat5 Ethernet cable to each TV, then plug in your sources such as DTV, Cable, DVD, or PC's directly into the unit (via the included 6 foot HDMI cables). The included IR Flashers should then be stuck with the adhesive backing onto the front of the source boxes for easy control. The Touch panel connection is also just a Cat5 run.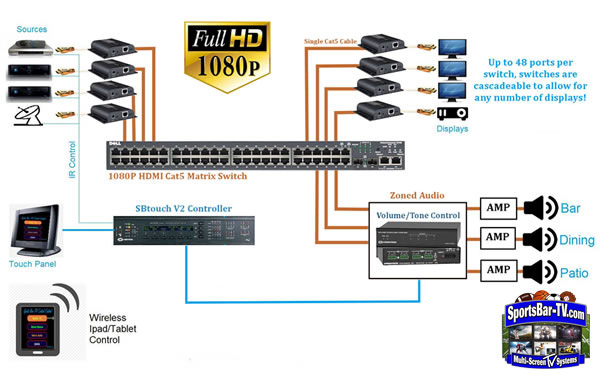 The system includes dual redundant power supplies to insure 100% up-time! The system will even message us should there be a power supply or other failure allowing pro-active repairs BEFORE an outage! Remote updating and troubleshooting are also standard, should you need to change something we can make the program modifications without the need for you to have any programming equipment in house. No one makes it easier to build out a full-scale TV system and no one has an easier to operate touch panel controller. Optional IR to each TV for Power control is available .
HDMI Cat5 packaged ready to intall System (Click Image Above to Enlarge Picture)
Additional notes on our SB-Touch Control system; The SB-Touch system Touch panel features a 10" HD screen with PIP video monitoring plus Ethernet connectivity that allows you to use iPads, Tablets & PC's to control the system; a 15" Touchscreen is also available. Multiple Touch panels can be installed into the system.
SB-Touch also controls all of the most popular audio systems such as DBX, Crestron & BSS for zoned audio; we also can supply audio switching with Tone & Volume control. Our most popular audio add-on allows one digital source (any of the HDMI sources are selectable) and 3 analog sources over 4 zones (bar,dining, entrance, etc). Each zone is controlled via the Touch panel for Volume and source selection. We have many audio options available, give us a call and we can work with you to determine which one is best for your project.
We now offer an unprecedented Warranty as well - Refurbished items are covered for a total of 5 years and the new equipment is covered for 1 year. Even after the warranty period has expired we will get you up and running for as little cost as possible as our policy is not to make money on repairs but to sell only quality items that DO NOT need repair and will last a minimum of 5 years.